CAIRO CHRONICLES
2004
28 minutes
Color, Film and Video
Egypt

Cairo Chronicles is a personal documentary that takes places in Cairo, Egypt. The death of the filmmaker's father compels her to return to his native Egypt. Kamal-Eldin documents the past - her father's generation and her own childhood.

Cairo Chronicles is a nostalgic tribute that casts a critical look at modern Cairo. Kamal-Eldin's first-person narration is the core of the narrative structure. The piece is shot on 16mm-color film and DV. Rich images are juxtaposed contrasting old and new, rural and urban and rich and poor.

The Middle East is a part of the world that is rarely covered positively by Western media. In Cairo Chronicles, Kamal-Eldin imparts a deeper understanding and a more compassionate view of that part of the world.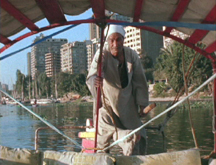 "Cairo Chronicles is terrific. So evocative. Nostalgia without sentimentality. It is beautifully edited. And bears the Kamal-Eldin stamp."

Dr. Margot Badran
Middle East Historian and Author



"In Cairo Chronicles, Kamal-Eldin's visual depiction of Cairo powerfully articulates change, decay and loss."

Fatma Mindikoglu
Communications Department, UCSD
"Cairo Chronicles was beautiful. A lyrical poem, soft, romantic, sultry, yet also stark and honest. I was very much impressed by the sensual and nostalgic quality of it."
Dr. Olga Rojer, Department Chair, Language & Foreign Studies
American University, Washington DC
SCREENINGS:
- Tiburon International Film Festival
- Women of Color Film Festival
- The Middle East Studies Association Conference (MESA)
- Semifinalist at Boston Motion Picture Awards International Short Film Festival Competition
- Hosni Haddad Memorial Lectures and Presentation, University of Chicago
- Vocation Visitor at Luther College, Iowa